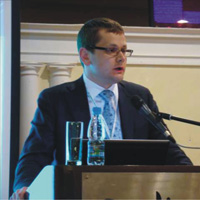 Click here to view all photos from the Conference
On January 26, 2010, BEFL Managing Director Vladislav Novoselov took part in the International Conference of agricultural producers and suppliers of production facilities and services for the agricultural industry 'Where the Margin is', arranged by the Institute for Agricultural Market Studies assisted by the European Bank for Reconstruction and Development and the International Financial Corporation. At the Conference Vladislav Novoselov presented a report 'Russian Market of Agricultural Land'.
The participants of the Conference discussed issues and favorable opportunities of the current economic year and future perspectives. Among the participants of the Conference were John Deere, Cargill Yug, Razgulay-Agro, Agricultural Company RusAgro, Unilever Rus, PRODIMEX-Holding, Agro-Invest, Doronichi, Claas Vostok, Plodorodie, Bunge-CIS, Amity Technology, Burlington Capital Group, RusGrain, Halcyon International Limited, PricewaterhouseCoopers, New AgroGroup, Bryansk-Agro, Gulkevichi Starch Plant, KWS Rus, Russkiy Dom, Bayer, Agroholding Getex, Agroholding Ivniasnskiy, Russian Land, Agrofirm Mtsenskaya, Agrofirma TNK (Kazakstan), Firma August, Agroprominvest, RusAero-Market, TPG Capital, Agrosila Group, Savings Bank of Russia, VTB Capital, Prikubanskiy farmers coop, BASF, etc.